RSVP and Media Inquiries:
info@camillawebsterart.com
PAUL FISHER GALLERY PRESENTS A MAJOR EXHIBITION OF PAINTINGS BY CAMILLA WEBSTER.
VIP COLLECTOR PREVIEW: EARTH AND SKY. CHAMPAGNE RECEPTION WITH PALM BEACH AND WEST PALM BEACH'S LEADING ART LUMINARIES AND COLLECTORS.
OPENING NIGHT VIP RECEPTION
Friday February 28th, 2020 - 5:00pm - 6:00pm
Open to the Public 6:00pm-9:00pm
Palm Beach, February 17th, 2020 - The exhibition EARTH and SKY is a large scale intimate view of the the artist's journey. Painting in South Florida since 2017, the artist's family has a love story with the nature of the intracoastal and the ocean that spans more than half a century.
The VIP Preview is hosted by art and society luminaries Jayne Chase, Jacqui Michel, Jackie Valls, Kay List, Bruce Helander, Ron Burkhardt, Harrison Morgan and Guy Clark. The exhibit runs through Wednesday, March 18th, 2020
"The artist's most memorable and ingenious compositions possess a certain mystifying spirituality placed between the painterly lines that often seem dreamlike in an elusive abstract recreation of a special moment in time that's worth documenting", shares artist and expert Bruce Helander. Helander is the curator of Webster's first solo museum exhibit at The Coral Springs Museum of Art in May 2020.
Born in New York, Camilla Webster traveled the world as both an artist and an award winning journalist covering hot zones in the Middle East and important global events from The World Economic Forum to Wall Street.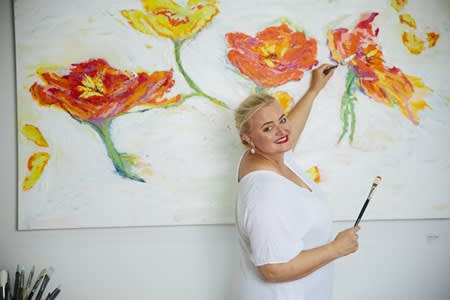 Landing back in Palm Beach, her often epic paintings have focused on the essence of the human spirit, connection, healing and the societal issues in our midst through abstracted landscapes and seascapes of nature in Palm Beach, Ocean Reef and Islamorada.
The Paul Fisher Gallery. 433 Flamingo Drive, West Palm Beach, 33401.
By Apptmt: 561-832-5255